In the latest episode of Intersections, the podcast where we have conversations at the intersection of education, equity, mobility and tech,  CEO Kimberly Moore spoke with Carl Allen about school transportation pre-COVID, during COVID and the return to in-person learning. Carl is President & COO of 4Mativ.  Carl previously served COO/CFO for the Harvest Network of Schools in Minneapolis and Boston Public School's Director of Transportation.
Let's jump into Kimberly and Carl's conversation:
What are some ways that 4Mativ is helping school districts today really tackle transportation issues they been facing?
Carl Allen: "During COVID, schools are needing their services to do different things than what their services had done previously. Part of our theory is that schools need school transportation departments and school districts need to be more variable cost organizations and be less beholden to a set of fixed costs that are over capacitated, or not fully utilized. We work to minimize the reliance on fixed costs and try to help districts identify other variable or diverse options to better meet their flexible needs as well as simultaneously looking at their fixed assets and how do they best utilize them. Are they holding families and their communities to the walk zones and eligibility boundaries that are their stated policies? This is where we find a lot of efficiencies. In terms of not just how they can be most efficient, but how they can have a more variable cost and flexible system. We help them explore ways to leverage public transit, supportive walking programs, employing a diversity of different vendor types that have different pricing models and different vehicle sizes. We also take the burden of the complexity of managing off of them. Paradoxically, we attack the complex demand with more complex supply."
Because of the pandemic, many parents are electing to drive their kids. How do you think schools and districts will deal with the influx of cars coming on campuses along with buses?

Carl Allen: "That's the instance where you have that amount of families that don't want to use school-provided transportation. School districts need to be more nimble in bringing their capacity levels up and back down in response to changing risk perceptions and demands of families. That's the idea of having some capacity that's flexible. On the other hand, we advocate for districts to have more fixed kinds of transit, like network designs in their yellow bus networks, to create more efficient and simpler networks. So more community stop oriented, fewer stops, more students per stop, asking a little bit more of families who choose to use the bus in terms of walking a little bit farther to a bus stop. This more fixed network allows you to be more efficient, but in situations where families are making choices every day about whether or not to ride to be sustainable, you can accommodate some of that. The best way to accommodate is to simplify and act more like a transit network. You try to predict and adjust where capacity is going to be needed, recognizing that you have a sort of random or more dynamical demand profile, and who's riding when."
We see more districts offloading from the traditional yellow bus onto public transit. How do you see this maximizing more kids taking public transit?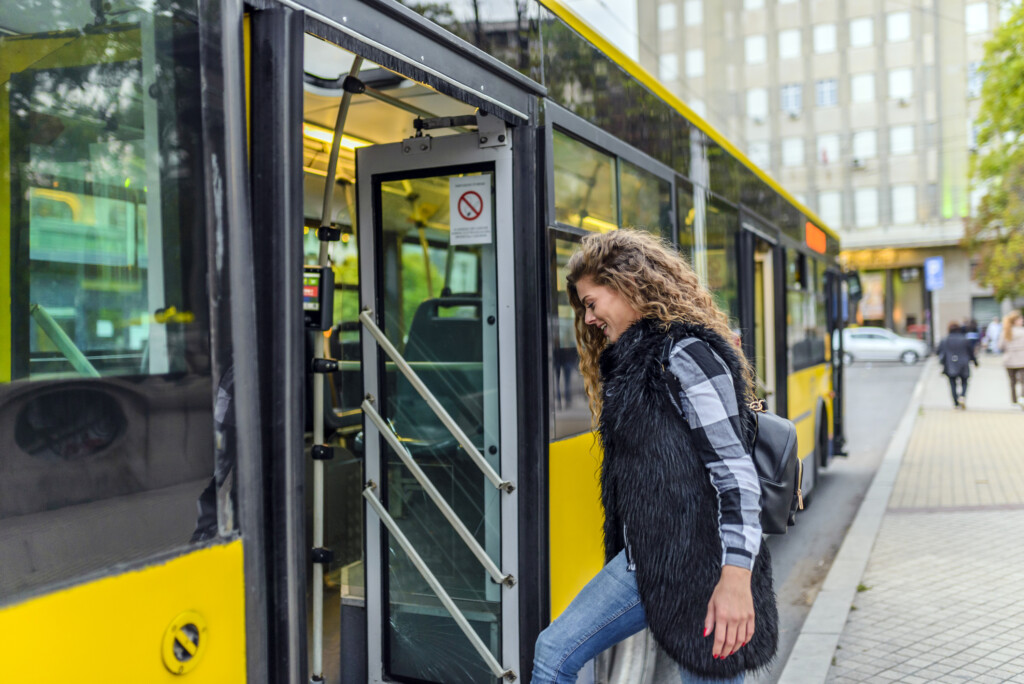 Carl Allen: "The Federal Transit Administration's rule is that service can't be dedicated, designed, or deployed using federal funding explicitly for school service. But a lot of what transit systems do is they may deploy supplemental service on existing routes. They can't keep it exclusively for students. So it would naturally sort itself out. There are student routes for high school students that not a lot of the public would want to use but they were available to the public. Aside from that, you're going to find transit routes that happen to coincide with these large groups of students coming to particular schools enough to fill up a transit bus route. What we've talked about and have done with our work with Indianapolis Public Schools, for example, is looking at the existing fixed transit network. Questions we ask are –
How many students could ride plausibly setting a service level that's reasonable?
How many could reasonably take public transit and have a ride that don't have too many transfers or isn't too long?
How could yellow bus service be designed in a supplemental way to connect more students to potential areas of higher service?
For high school students, you could create roughly commiserate or kind of equal transit access across a bigger area than what the transit system could provide on its own, but you're still integrating and leveraging with the transit system. Over time, that the school district might be able to be more nimble in that respect. Furthermore, the transit systems actually might adjust in response to increased demand and being able to add stops and frequency and so on in response to that predictable demand being there from schools."
When you think about the comprehensive deployment of COVID-19 vaccine and kids returning back to school, the planning that's required from a transportation perspective will need to be very thought out. How early do school districts need to go to really prepare for the first day of the return to in-person school?
Carl Allen: "It's been really hard to predict what the virus is going to do now, what the vaccine deployment is going to look like, etc. I think keeping a pulse on what your families are at is the most important thing.
What are they going to want?
When are they going to feel comfortable coming back?
What if we have another surge?
What do we need to do to be able to sustain what we're doing right now?
"It is really hard to manage it and adjust to all these different scenarios. I think starting now, school districts should line up and talk to other vendors, other options, and talk to your existing vendors about the flexibilities that they might have to add service down the line. Recognize if they think they're going to need 10 buses in a few months, and they're not using any right now, that it might make sense to start to arrange with a contractor to start hiring, recruiting, and end up paying for some portion of a driver wage so that they have that option. They can't just pull drivers out of thin air, it takes time to ramp up especially on the larger bus side. Also, it makes sense to start thinking about ways that if they can't find drivers, if they can't get buses on short notice, how could they provide supports to families and get folks back in the buildings quicker?
"Start thinking about carpooling, supports, and/or staff that could go out into the community and escort students in like a walking school bus. This can be more nimble, flexible, and low cost. Those are the kinds of things that we would advocate for long-term sustainability. Really good stopgap measures are coordination on the curb staggered schedule, so you could accommodate if all the families needed to drive in and how do you identify those families that really need transportation support, they don't have private automobiles or can't afford to drive on their own."
Kimberly Moore: "School bus alternatives are the reason we are hearing from more and more schools and school districts to discuss how to help parents and reduce traffic congestion as the return to in-person school begins."
Listen to our entire conversation with Carl Allen on Intersections available on your favorite podcast platform.
Author:
CarpooltoSchool
CarpooltoSchool unlocks new transportation options when school administrators are looking for more safe and cost efficient alternatives to bus service for their school communities. We leverage technology to deliver parents web and mobile apps to meet to organize carpools, walkpools and bikepools. The future of student transportation is now powered by Go Together, Inc.