WHAT IS CarpooltoSchool?
CarpooltoSchool is a trusted transportation platform of school branded web and mobile apps that matches you to other parents who want to create a carpool, walkpool or bikepool. It is intuitive and easy to use. You can easily set up your profile, include the number of seats you have, as well as, get matched based on your children's grade.
WHY CARPOOL, WALK, BIKE TOGETHER?
Carpools save time and reduce the stress of daily drop off and pickups. Carpools also create fun friendships between children and parents, especially those new to your school. If you've ever been frustrated combing through lists, spreadsheets trying to connect with other families in your school then you will quickly see the power of CarpooltoSchool.  If you've got to drive to school anyway, why not drive 2-3 days instead of 5?  You get time back in your week to do the things you want and need to do.
DO I HAVE TO PAY TO USE CARPOOLTOSCHOOL?
No!   There is no cost for parents registering through their school's CarpooltoSchool. Membership is free for parents and students. Your school pays an annual subscription fee.
HOW DO I FIND A MATCH?
CarpooltoSchool matches participating parents whose children attend the same school. You can send an e-mail to say hi first or request to join a carpool directly through our software. Should the parent accept, you can meet, exchange contact information and start an online dialogue about your carpooling needs.
HOW DO I LOGIN?
Once you are an approved member of your school's carpool, please login by going to your school's website and finding the CarpooltoSchool link.
IS THE PLATFORM SECURE?
Yes, CarpooltoSchool was built with security in mind. First, we take every precaution to ensure your information is safe and private. Click here for the 
Privacy Policy
. Second, parents, even students and faculty, are approved by the school to ensure that their matches come from within your own school community.
ARE YOU ONLY MATCHED WITH OTHER PARENTS FROM YOUR SCHOOL?
It's up to you. Your school approves all members of its own custom CarpooltoSchool community – but whether you match within your community only or the entire CarpooltoSchool user network is a preference you choose in your user settings. If you have two children who attend different schools in the CarpooltoSchool network, you can be approved for carpool matching at both sites under the same account.
DO YOU PROVIDE SCHEDULING & CALENDARING?
Yes! CarpooltoSchool offers you the ability to create a one-time or recurring schedule, and even more than one carpool, using an easy-to-use interface. Set your notifications to receive e-mail or text for matches, including when it's your turn to drive.
DO YOU HAVE TO OWN A VEHICLE?
No. You do not need a vehicle to join. CarpooltoSchool can match you with other parents who are interested in carpooling, walkpooling or bikepools. It is up to you to discuss the type of school pool. You can use our online school pool request and mail system to start the dialogue.
HOW WILL PARENTS SEE MY REQUEST?
Here's a sample of a match request on CarpooltoSchool.com.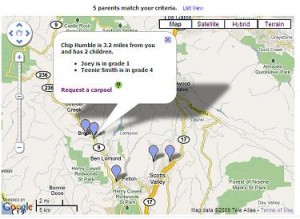 WHAT IF I NO LONGER WANT TO PARTICIPATE?
Sure. We understand if your family's circumstances change. If you want to be removed from your school's CarpooltoSchool, you can send a message to your school administrator and be removed! Please allow 48 hours!