In GoTogether's latest podcast episode, CEO Kimberly Moore sat down with Jennifer Schiess. She is a partner leading the Policy and Evaluation team at Bellwether Education Partners. Bellwether Education Partners is a nonprofit organization that focuses on improving the education quality and opportunities for underserved students. Schiess was able to give us her perspective on the 21st-century challenges and opportunities of student transportation. This is part 1 in a 2-part interview series.
First, we asked – What's The Current State of Student Transportation?
Jennifer Schiess: "[The school bus transportation] system really hasn't shifted much in the last 30 years. The federal government essentially regulates bus manufacturers and safety standards. They also regulate some service provision requirements around special populations of students. For example, students with disabilities have special rights under the federal policy to transportation services, as well as students who are experiencing homelessness, or students who are engaged in the foster care system. The operation of school transportation falls to states and primarily to school districts. States will determine things like what kinds of vehicles can be used to transport students. They also determine who's eligible for school transportation, which is typically determined based on the distance between a student's home and their school. They also set standards for school bus drivers. In addition to that, there are all kinds of other complexities. There are different ways that school districts actually operate school transportation systems. Some school districts essentially run a small transit system themselves. Others contract all that out. In some bigger urban environments, they rely on public transportation, which brings a whole other level of complexity. Now we have a lot of different education options. Children aren't necessarily attending the school that's in their neighborhood. They may be choosing a charter school or a district school that's located somewhere else, which really makes it more complex the planning of transportation."
Funding for schools varies depending on the type of school and the state they are in. In some states, schools are more funded by the state than locally, and in other states, it is vice versa. Some schools have more flexibility to budget for their transportation. And it is not just the buses. Funding is needed for the maintenance and operation of the entire school bus system.
Next – What about School Buses vs. Carpooling?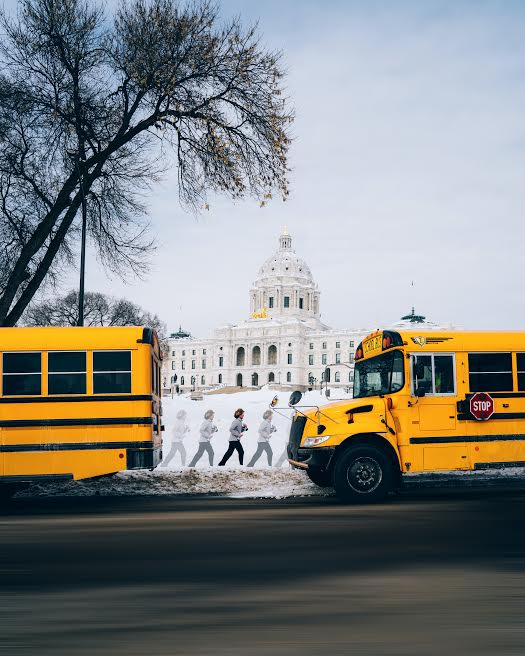 Jennifer Schiess: "This is a question we're very interested in being able to answer – What is the relative environmental impact of multiple personal vehicles vs. one diesel bus or clean diesel bus? In talking with district officials, one of the big challenges they grapple with is just managing the carpool line and the traffic around schools. Anybody who's tried to commute to work, driving through school zones is kind of a nightmare. You get all these tie ups with people waiting to drop off their students. In a perfect world, the most efficient way to move kids to school is on a fully loaded school bus. It's also the safest way to move them to school, they are much less likely to be injured in an accident involving a school bus than they are in a personal passenger vehicle. There are definitely trade-offs with having parents drive kids to school. But I'm also sympathetic to the parent point of view, which is often around efficiency, or issues with the quality of service. So, you can definitely understand why parents might make that decision rather than the school bus."
You mentioned Transportation for Homeless Students and Students in Foster Care. Tell us more….
Jennifer Schiess: "Under federal law, students experiencing homelessness and students in foster care have a right to attend the school they went to before they became homeless or went into the foster care system. Students in these situations tend to be under immense stress, and this law is meant to give these students a constant in their lives. By law, schools are required to provide transportation for these students even if they are living outside of that school district."
Kimberly Moore: "In this case, there is more flexibility in the types of vehicles the students can be driven to and from school. Federal and state regulations support smaller vehicles since it's typically few students per trip. Same standards for drivers though."
All of this was before COVID-19 Pandemic – What's Happening Now?
Jennifer Schiess "Of course, we have to touch on how the pandemic is affecting school transportation for the districts that have in-person or hybrid classes. Many parents would understandably be uncomfortable putting their children on a school bus with up to 90 other students."
Jennifer Schiess: "I think the challenge of transportation and COVID has been a very real one because you can't run a fully loaded bus and maintain social distancing. That's what's driven a lot of the logistical problems around trying to transport kids for in-person learning because you simply can't have very many kids on the school bus. And then there's required forms and affirmations every day that the student doesn't have a fever isn't showing symptoms, all those things that have made it more complex. [But if more parents prefer driving their children to school now], that's just going to exacerbate all of the traffic and safety and efficiency issues that we were talking about before."
To hear more of this relevant conversation on the podcast, check it out on Apple, Spotify, Google, and Audible. A big thank you to Jennifer Schiess for coming on the podcast! Please check out Bellwether Education Partners and discover more of their work to ensure that all children have equitable access to the education and support they need to prepare them for success.
Author:
CarpooltoSchool
CarpooltoSchool unlocks new transportation options when school administrators are looking for more safe and cost efficient alternatives to bus service for their school communities. We leverage technology to deliver parents web and mobile apps to meet to organize carpools, walkpools and bikepools. The future of student transportation is now powered by Go Together, Inc.