Is your school morning drop-off line a transportation nightmare?
On any given day, there are buses, cars, and children vying for access to the entryway. There are more children stuck outside the school than in the classroom. Frustrated neighbors, stressed teachers, and annoyed parents – we know the deal.
At CarpooltoSchool we believe getting kids from their homes to their assigned seats at school, and vice versa, can be simpler.
Wouldn't it be nice if you could worry more about what's happening in the morning classrooms than the morning drop-off line? What would your day be like if traffic in the pick-up/drop-off line wasn't backed up, and trying to lower bus costs was the last thing on your mind instead of the first?
CarpooltoSchool makes this a reality.
CarpooltoSchool enables families to go to school together, meaning fewer cars entering the school campus, and happier parents with less transit stress.
How It Works:
By subscribing to CarpooltoSchool, your school and parent community gain exclusive access to the school-branded web and mobile apps. There the school verifies every parent as a user and in seconds parents can find a match for their carpooling needs. Its intelligent matching algorithm matches parents based on distance, schedule and grade they want their children to ride with, allowing them to set up pools that really work for their families.
On days when they are not in the driver's seat, parents can even get notified when the pool starts, and pick-up and drop-off are complete. Sharing the carpool's location gives parents the peace of mind of knowing their child made it to school safely.  Pooling together not only strengthens connections between families, but also deepens a family's connection to your school.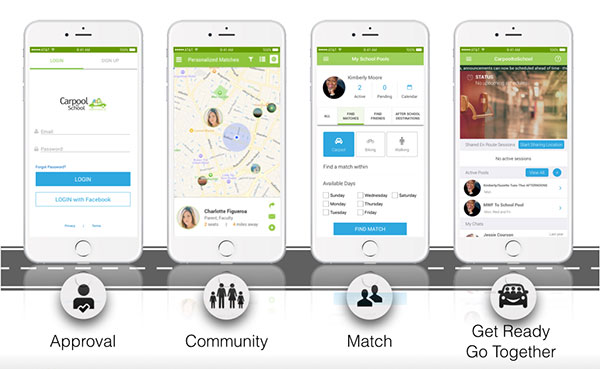 Growing your student body shouldn't mean growing your transportation challenges.
When your school grows, your network of parents and potential poolers grows too.Tap into it and get the pooling started with CarpooltoSchool.
If you're an administrator, your next best step is to schedule a short 15-minute, free demo today.
See how CarpooltoSchool can work for you and your community. If you're a parent share this with your schools to get the pooling started.
Author:
CarpooltoSchool
CarpooltoSchool unlocks new transportation options when school administrators are looking for more safe and cost efficient alternatives to bus service for their school communities. We leverage technology to deliver parents web and mobile apps to meet to organize carpools, walkpools and bikepools. The future of student transportation is now powered by Go Together, Inc.