Yep, this is reality. We really must stay home as much as possible, keep our daily interactions digital or behind a mask, and hold our kids from their schools' nurturing environment. COVID-19 has swiftly shaken all "normalcy" from our lives. The good news? We know we will overcome and break free from this hardship, eventually. But the end of this unfortunate nightmare will not be the only good thing to come from this intense experience: we are also learning how inseparable we are from one another.
This is true on two levels. Firstly, our success in this fight depends on our collective diligence and respect for one another's wellbeing. We are reminded that our actions have very real and consequential effects on those around us. Our lives are more intimately intertwined than we may have previously realized (and I mean more than just the demand on toilet paper). Not only are many of the services in which we rely proving to be the direct product of other's efforts and coordination, but we are all also noticing just how many people we come in contact with on a typical day. As a result, it turns out that we can no longer easily access several of our accustomed resources while still having to think twice about risking that extra trip to the store.
Secondly, we are social beings that innately value social interactions. According to the American Psychological Association, psychologist Louise Hawkley, PhD, "points to evidence linking perceived social isolation with adverse health consequences including depression, poor sleep quality, impaired executive function, accelerated cognitive decline, poor cardiovascular function and impaired immunity at every stage of life." Needless to say, we immensely benefited from the many social settings we participated in prior to COVID-19. As the public spaces around us began to shut their doors or became blocked off with caution tape, we find ourselves and our families spending an unfamiliar amount of time locked in our households. In order to curb this isolation, many have turned to their neighbors or virtual community groups for support.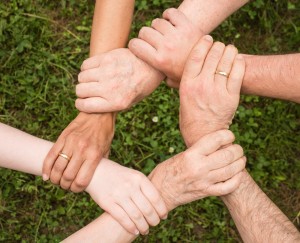 So, when we do finally emerge from this pandemic and return to "normalcy," how will our communities have changed? In general, there will be a revived appreciation for the value others bring to our lives. We will have realized that we can improve the quality of our livelihoods when we compile the resources brought together by different individuals and build a braintrust within our community. Many will have found that their communities actually grew bigger because they had been forced to build new relationships with individuals who had been present all along. Furthermore, we'll be tired of separation and reimagine the different ways we can include others in our day to day lives. Learning how important it is to rely on one another during times of crisis will have also taught us that we can rely on one another outside times of crisis. Neighborly love will be rejuvenated, and new bonds of trust will tie us closer together. We will find that life becomes less stressful and more prosperous when we embrace our newly strengthened communities.
Author:
CarpooltoSchool
CarpooltoSchool unlocks new transportation options when school administrators are looking for more safe and cost efficient alternatives to bus service for their school communities. We leverage technology to deliver parents web and mobile apps to meet to organize carpools, walkpools and bikepools. The future of student transportation is now powered by Go Together, Inc.